Simultaneous interpreting

Conference interpreting in more than one language
1
Are you planning a large event where the participants communicate in different languages? Thanks to simultaneous interpreting, there are no language barriers to international events! Discover our interpretation services in your preferred languages.
What is simultaneous interpreting?
1
It is a language service where the interpreter translates what's being said while the speaker is still talking. Unlike consecutive interpreting, there are no pauses, so the flow of the talk or lecture is never interrupted. The interpreter simply converts what is being said in real time. Of course, you can use more than one interpreter and, as a result, offer interpreting from several foreign languages at once.
When is simultaneous interpretation used?
1
Simultaneous interpreting is really useful during large events, such as:
Conferences
Official events (presidential speeches, United Nations and EU events)
Fairs and trade shows
Seminars, conventions and presentations
This method is especially beneficial for large multilingual conferences, where a large audience is expected.
This is a specific form of simultaneous interpreting, where a simultaneous interpreter listens to the person speaking and interprets what's being said by whispering to the client. This form of interpretation comes in handy during bilateral meetings or small-group meetings.
Are you seeking simultaneous interpretation for your company? Fill in this form:
Specialist equipment for simultaneous interpreting
1
When it comes to consecutive interpreting, all you need is a microphone for the interpreter, who usually stands next to the speaker. For simultaneous interpreting, you need interpreting booths, which are usually installed in the same location, somewhere near the stage in a place ensuring correct communication. Such an interpreting booth allows the interpreter to listen to what's being said (all they can hear is the speaker) and do their job without any interruptions. In this form of interpreting, full concentration is of the essence!
Of course, at Skrivanek, we not only offer consecutive interpretation services but also at least two interpreters and high-quality sound-proof booths as well as other portable equipment for your event, such as personal wireless receivers.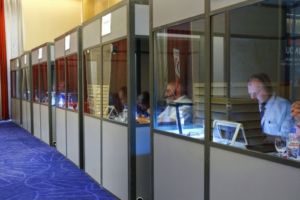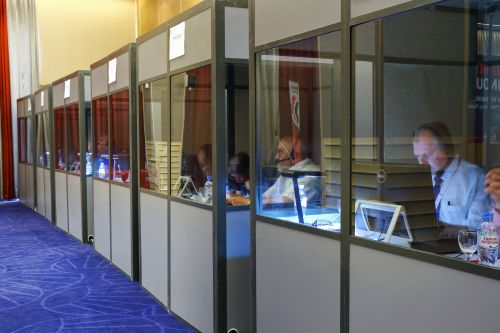 Remote simultaneous interpreting
1
If you cannot have soundproof booths at the venue, then we offer a remote version of this service. The use of a high-quality remote simultaneous interpretation system can reduce the costs of this service by up to 70%. A quality remote interpretation system reduces travel costs and frees up floor space. Since remote interpreting software is easy to use, it usually integrates well with the preferred video conferencing platform. These services are a cost-effective, time-saving option for businesses and organisations looking for a way to improve their meetings and events.
What else does simultaneous interpretation require?
1
This is undoubtedly one of the most challenging types of language services. Simultaneous interpreting requires a high level of skill, including fluency in two languages and specialist knowledge of industry-specific terms. Interpreters need to maintain the natural flow of the talk, so there's not much time to think about proper words. Regular breaks are also indispensable.
Simultaneous interpreters are essential for speeches containing legal jargon, scientific and technological references, or medical terminology. Additionally, simultaneous interpreters must be active listeners, using all their senses, and must have exceptional memory.
In addition, simultaneous interpreters must be aware of the content of the original text. A simultaneous interpreter must grasp enough of the speaker's message before they begin interpreting it. As the speaker continues to speak, the interpreter must listen to the speaker and decide when to translate. The process is repeated until the event is over. Typically, simultaneous interpreters work in pairs, taking short breaks in between. Additionally, it is important that both interpreters wear headsets while interpreting, as it is crucial to ensure good communication.
For successful simultaneous interpreting, it is essential that the interpreter is prepared in both languages: the source and the target. The goal is to build a connection with the audience while also fully expressing themselves. As with any other language, the interpreter's voice must be clearly heard, yet not be too high that it overshadows the speaker's. It is best to practice in a relaxed and comfortable manner, allowing the speaker to speak without overpowering the interpreter.
Simultaneous translation is a challenge for an LSP
Because simultaneous interpretation requires a high level of subject matter expertise and fluency in both the source and target language pair, the interpreter has to be skilled and well-trained. As a result, the number of experienced simultaneous interpreters is relatively small. This means that agencies offering interpreting services must carefully select the right simultaneous interpreters to match the client's needs. During a meeting or a business presentation, the interpreter must be alert to the agenda and maintain a high level of concentration.
What are the benefits of simultaneous interpretation?
1
Think of simultaneous interpretation as a way to help your organisation grow and connect with a variety of target audiences. This means that you are not limited to your own language, allowing you instead to reach hundreds of people speaking different languages at the same time. Isn't that amazing? This is the beauty and true potential of this language service.
Moreover, the benefits of simultaneous interpreting include the fact that it eliminates the long pauses for the speakers and listeners, ensuring that everyone understands the message quickly. Simultaneous interpreters usually work for 20 to 30 minutes per meeting, with a 10-minute break between meetings so they can remain alert and take turns delivering the messages.
With simultaneous interpretation, you can:
Allow your employees to speak to diverse groups of people
Promote a better understanding of relevant topics
Build deeper relations with your current and potential customers
Ensure your event gets the high-end setting it deserves
Take your marketing activities to an international level
What happens during an event with simultaneous interpretation?
1
During such an event, a simultaneous interpreter listens to the speaker through headphones while delivering the translation to the audience. The latter is also time-efficient compared to consecutive interpretation and uses headphones to improve sound clarity. Transmitters and receivers with headsets are used for portable simultaneous interpreting equipment and are useful in settings where the participants move around.
Frequently asked questions
1
What languages do you translate into?
We translate into all European and many non-European languages, including: Albanian, Arabic, Armenian, Azerbaijani, Belarusian, Bosnian, Bulgarian, Catalan, Chinese, Croatian, Czech, Danish, Dutch, English, Estonian, Faroese, Finnish, Flemish, French, Georgian, German, Greek, Hebrew, Hindi, Hungarian, Icelandic, Indonesian, Italian, Japanese, Kashubian, Kazakh, Korean, Latin, Latvian, Lithuanian, Macedonian, Mongolian, Montenegrin, Norwegian, Persian, Polish, Portuguese, Romanian, Russian, Serbian, Silesian, Slovak, Slovenian, Spanish, Swedish, Turkish, Ukrainian, Uzbek, Vietnamese, and Yiddish.
And these are just the most popular languages that we work with. If you have not found the language you are interested in on the list above, please contact us and we will prepare a custom service proposal for you.
Do your service prices include VAT?
We state our prices in net and gross amounts, i.e. as VAT exclusive and VAT inclusive amounts.
Can I choose the same translator/interpreter that I have worked with before?
Of course. If you inform us that you would like your future assignments to be handled by the same translator or interpreter, we will be happy to comply with your request. Not infrequently, having the quality assurance in mind, we create such dedicated teams of language professionals for our business partners on our own initiative. To provide the best business experience, for our regular clients, we appoint dedicated project managers who take care of all of their projects.
How much space do i need to set aside for one or more soundproof booths?
The technical requirements of a simultaneous interpretation booth are critical. It must be large enough to accommodate the whole simultaneous interpreting team, ideally two to three interpreters per booth. They should also have a work area. Each booth needs a table deep enough for interpreters to work comfortably. They should have unobstructed views of the speakers to ensure the best possible quality. If possible, the booths should be located away from any walls or pillars that might obstruct their view.
Do you provide services to corporate clients only?
No. Although most of our translation requests come from corporate clients, we are happy to work with individual clients as well. In this case, sworn translations are the most popular service. Language courses are also a frequent choice among non-business clients.
How do i choose between consecutive interpreting and simultaneous translation?
Consecutive interpreting is used when you want to translate for just one target audience speaking one language. If you want to conduct a multilingual event, you should opt for simultaneous interpretation.
Does the cost of an interpreting service include travel, board and accommodation for an interpreter?
If the company ordering an interpreting service does not provide travel, board, and accommodation, such costs are added to the service price.
Benefits of working with Skrivanek
1
Skrivanek is one of the biggest LSP companies in Europe. Thanks to 30+ years of experience and collaboration with hundreds of experienced interpreters, we can provide both simultaneous and consecutive interpreting for any kind of meeting or event, not just in Poland but also worldwide.
When working with us, you get a comprehensive, tailor-made service that includes everything you need to organize a multilingual event, including the necessary equipment and on-site support.
Just reach out to our team to find out more!
translations or other language services?