Do you have an application, a game or some other type of software? Then why not localise it for other languages! In this way you can broaden its target market.

Discover the software localisation process AND GET NEW USERS FOR YOUR APPLICATION
1
Software localization is a process that allows your users to readily access all the software you offer in their native language, while understanding all the interface items and easily entering the information they need using their local keyboard layout.
Every company that owns or manages a software product should consider software localization. The fact is that adapting software to the needs and expectations of different target languages, cultures and nationalities helps you win their engagement and loyalty, as well as acquiring new users more easily.
Our experience shows that the software operating language, especially in advanced electronic equipment in fields like medical and telecommunications, plays a major part in influencing the customer's decision to purchase the product.
What is software localization?
1
This is a process of adapting your software components to the socio-cultural context of the new market. It addresses all the non-textual components of the translated application or digital platform, including:
purpose
specificity and needs of the target audience
SEO requirements
UX/UI aspects, including the user interface
Thanks to this, your application looks and feels 100% natural to customers in multiple markets. It is also easy to use and to understand.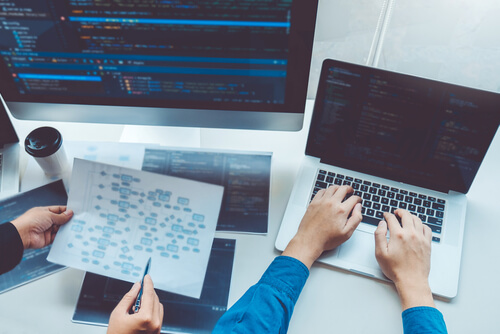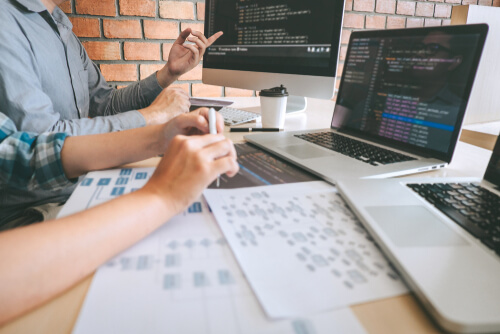 If you want your software to support multiple languages, then localize your software programs with us!
With our help, you can fully translate and localize your software to improve your customer experience (CX). Reach new target customers with internationalized software today!
Discover the software localization process
1
This is a complex process involving both language specialists and software developers. Here are the steps we follow to provide you with high quality software localization:
Step 1: Defining the scope of the software localization service
At the beginning of every localization process, we need to decide what should be localized. The best practices in software localization are to localize all the elements related to the given software, including:
Software interface/user interface (UI)
Technical aspects of the app
Documentation
Descriptions in app stores and on your websites
Keywords that people can use to find your app in a given language
We can localize commands, menus and other elements of the interface, as well as the documentation, to comply with all the local regulations and standards. A localized software retains the functionality of the original and is fully compatible with the hardware operating systems on which it is intended to be used.
Skrivanek can also localize online help documentation in the CHM and HLP formats, created by using HTML and RTF files or DTP software, such as FrameMaker, with the use of RoboHelp, Webworks or similar tools.
Step 2: Selecting the software localization tool
The software localization process frequently involves the various tools used by the language specialists and software developers. These include:
CAT tools (computer-assisted translation)
TMS (translation management systems)
Glossaries
QA tools (quality assurance)
Bug tracking and testing tools
File sharing and management tools
DTP programs
Sometimes we can also use machine translation, and here at Skrivanek we even have our own tool. We only ever use the tools that are necessary for adapting your software to meet new markets. In this way, we avoid overcomplicating our work and instead focus on delivering the result quickly.
Step 3: Preparing the files
In practice, every application is created from different files containing code bases and other relevant components. As a part of the localization process, we gather all the necessary files, organize them and then prepare for the internationalization process. These files are then sent to selected specialists, who know everything about how to handle and work with them.
Step 4: Creating the glossary
We realize that you may have some requirements in terms of the localization strategy. In such situations it is vital to create a glossary which, while it looks like a dictionary, actually explains how the phrases should be translated into the target language. Glossaries are essential in the translation process, especially when one term can have multiple different meanings depending on the region or target audience. For instance, the part of the car that covers the engine can be called a bonnet or a hood. The glossary lets the translation and localization specialists know which terms to use.
Step 5: Evaluating the translation process
There can be no localization without proofreading. These two services go hand in hand and are often undertaken simultaneously to ensure that all the content you receive feels natural to the target audience, as well as being correct, accurate and compliant with your requirements.
Step 6: Testing for localization
We need to make sure that every single element of the localized content works correctly and is appropriately displayed in the testing environment. We have access to advanced software testing tools as well as experienced software testers to ensure everything works correctly, and that the localized version of your software is as good as the main one.
At this point, some of the technical elements to check are:
Names, currency symbols, measurements, units, date formats etc.
Internal and external links
Images and their attributes
Menus and the whole website functionality
Payment processes
Cart and purchasing processes
Step 7: Issuing the finished resource files
Once everything is translated and localized into the target language, we hand over all the files that we have worked on during the process. If you wish, we can assist you in publishing the new version of your software on your website and in application stores.
What are the benefits of software localization?
1
Creating an app that is available in multiple languages is indispensable for the global success of your digital business. In the modern world, adapting digital products to various foreign languages does not pose a problem from a technical perspective, as there is no shortage of localization software to help with this assignment, even for Asian languages. If you want to build a presence in multiple target markets, you have no choice – you need software localization.
Localized software allows you to:
Access more markets
Grow sales
Maintain business stability
Get and engage more users all over the world
Are these not your goals as an entrepreneur? With software localization, you can achieve all of this more easily and effectively while reaching more international users.
Why should you entrust us with your software localization?
1
We offer software localization not only in English, French, Italian, Swedish and Korean, but in over 100 languages! During every software localization process, we pay attention to ensuring that the final product is fully adapted to a given group of users – both in terms of language as well as other relevant technical and cultural aspects. The goal of software localization is to provide your users with the maximum convenience in using a given program. That is what we always strive to achieve.
Legal requirements
What we do does not end here. We can also take care of compliance with the legal requirements of the country where your software will be offered.
An LSP that specializes in the IT sector
The IT industry is just one of our major specializations, and we have a lot of experience in working with the different forms texts found here, including code bases, user interfaces, dialogue boxes, manuals, etc.
We can localize various types of software:
Graphics processing programs
Computer and mobile games
B2B platforms (ERP systems, CRM systems, call centre tools, e-commerce platforms and many more)
Web and mobile applications
SaaS platforms and more
We have vast experience in working with software development teams and companies, software houses and digital marketing agencies. This experience guarantees seamless and effective cooperation. If you work with a software development company and you want them to manage the localization process, then we are happy to work with them on your behalf.
translations or other language services?