Saving time and money are the greatest advantages of machine translation.

Neural machine translation – Skrivanek NMT
1
Skrivanek NMT is a system built on 20 years of business experience, based on neural networks that function like the human brain. SKRIVANEK NMT is a proprietary tool tailored to the needs of clients from various industries, such as law, medicine, technology.
If all that is required is a communication-level result, without smooth and professional styling, then neural machine translation alone is an ideal solution.
You can select the optimal NMT variant for your needs:
NMT with no post-editing (raw NMT)
NMT with basic post-editing (light NMT)
NMT with full post-editing (full NMT)
Choosing NMT is most beneficial when you need to quickly translate large projects featuring repetitive elements. If the translation is to be used or shared with other parties, it will be necessary to apply some post-editing. For specialised materials or particularly specific vocabulary, the best choice may be an experienced translator.
What is post-editing, and do I need it?
1
This involves the checking and correction of the NMT translation, and is available in two forms. The first is light post-editing, which creates a text of a quality where the content can be understood easily and consistently. This second type is full post-editing, where the quality of the final translation is suitable for publication, and reflects the nature and the emotional transmission of the original.
Do you want to know more about machine translation, have urgent projects that must be done now – let us know!
Swift machine translation for internal use – case study
1
The client contacted us with a question about the possibility of delivering a translation within the next hour. The material comprised over 12,000 words, which was a very large amount considering the time limit imposed by the client. An additional challenge was the file format: the client did not have an editable version, which meant that the graphic designer had to convert over 30 pages before starting the actual translation.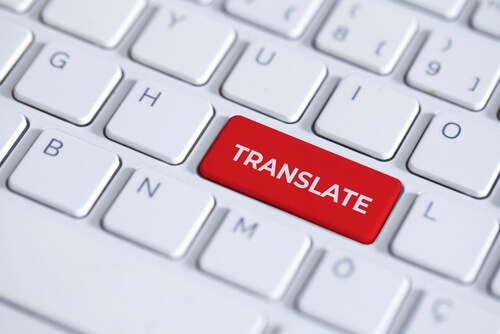 milions of translated words in 2020
and more supported file formats
How does neural machine translation work?
1
Neural Machine Translation is a new approach to an old problem. The breakthrough was to connect the parts of the system together in a network, one that resembled the neuron network found in the human brain. This allows a database to be created from past texts, similar to the way that we learn things. Such neural systems are becoming increasingly popular, because they improve both translation efficiency and text quality compared to earlier technologies.
Advantages of SKRIVANEK NMT:
Time savings – same day service. For example: a 50-page document requires 5 translators for a day, but SKRIVANEK NMT only needs 2 hours,
Free translation sample,
Data security and confidentiality: a server in a secure location, full security, no agents,
Lower price in comparison to a traditional translation,
Combining of NMT results with existing translation memories,
Document formats maintained (font, tables, colours, scoring, table of contents),
Ability to build your own NMT system – taking into account your company's needs and specialisations,
Ability to improve the translation quality (light and full version).
The solution is not intended for all sectors, file formats and texts. Ask our specialists to see if your project is suitable for SKRIVANEK NMT,
Some texts are too challenging, such as recreating the nuances of humour,
Some texts may lose fluency and the relevant wording.
* In some cases, it is possible to use SKRIVANEK NMT after some pre-editing or preparation of the text or file.

FAQ – neural machine translation?
1
How fast is Skrivanek NMT?
The system translates 1,200 words per second, the equivalent of 5 standard pages. The time needed to prepare and finalize the project should be taken into account.
Do you need NMT or another solution?
The quickest and most convenient way to find out is to contact our specialists, who are always pleased to explain whether NMT is suitable for your projects. It is common to choose raw NMT for some tasks, and then a full-service package for others, including manual translation with correction, etc. There are several standard questions to help you choose the right service: Who will read the text? Is the text intended for publication? Is it enough to communicate the meaning of the text? What is the purpose of the translation? What is the industry? Do I need someone who can provide the highest quality of translation? If only understanding the general sense of the text is required, then NMT is an entirely acceptable form of translation. For a result equivalent to a human translation, combining NMT with full post editing may be what you require.
How does NMT differ from computer-assisted translation (CAT)?
Machine translation and computer-assisted translation are very different processes, only related by the use of a computer. Machine translation uses a computer to generate the translation, while for computer-assisted translation the translation is done by a human, aided by specialized software.
How much does a NMT translation cost?
The price depends on the expected delivery date, file format, word count, subject matter and any additional services you require. We assess every order on a case-by-case basis.
translation or DTP services?